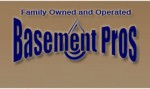 Description
Damp proofing company in Newark, Delaware
569 Walther Road,
Newark
Delaware 19702
About Basement Pros
Basement Pros is a family owned and operated business which is committed to providing each and every customers with the highest level of quality and customer service. They service Delaware, New Jersey, Delaware County, Montgomery County and Chester County in Pennsylvania.
Basement Pros has over 25 years of hands on installation expertise. They guarantee you the most comprehensive, reliable systems available at the absolute lowest possible price. Every basement inspection they perform is done by a foundation waterproofing expert, guaranteeing you receive a thorough, informative and honest assessment and estimate.

Description
Damp proofing company in Wells,
356 North Berwick Road,
Unit #7,
Wells,
ME 04090
About TC Hafford Basement Systems
TC Hafford Basement Systems was established in 1991 by Maine native, Tony Hafford, and was originally known as TC Hafford Waterproofing, Inc. After receiving his business degree from Northern Maine Technical College, Tony discovered he carried an interest in the concrete restoration and waterproofing field. He felt there was a need to improve the waterproofing services available in Maine and decided to start his own company.
In 1995, Tony received further specialized training in foundation repair and basement waterproofing from Basement Systems International Waterproofing Contractor Network. After meeting several requirements, he earned the title of "Certified Waterproofing Professional" and became the exclusive Basement Systems dealer for the entire State of Maine. At this time, the company name "TC Hafford Basement Systems" was adopted.
TC Hafford Basement Systems is the exclusive Basement Systems Dealer for the State of Maine and also performs basement & crawl space waterproofing and foundation repair in eastern New Hampshire.
TC Hafford Basement Systems is also the exclusive dealer in Maine for Foundation Supportworks Inc, a network of expert foundation and structural engineers with award-winning products and superior expertise in all facets of foundation repair.
Over the years, the Specialists at TC Hafford Basement Systems have consulted with thousands of homeowners, designing effective home improvement solutions for every wet basement, dirt crawl space and foundation issue encountered. As a trusted and valued member of the Basement Systems network, and the Foundation Supportworks network, TC Hafford Basement Systems upholds the standards of those companies to the highest degree.