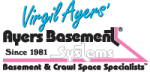 Description
Damp proofing company in Lansing, Michigan
2505 S. Waverly Hwy,
Lansing,
MI 48911
About Ayers Basement Systems
Ayers Basement Systems is unique in the central and western Michigan are not only because of the doundation the company is built on, but because they are the only waterproofing contractor licensed to install Basement Systems patented products and systems. These products they use, are the latest in modern design and are superior in workmanship and effectiveness because they have been designed specifically for basements, crawl spaces and foundations.
It is an independently owned and operated company serving Central and Western Michigan area since 1981. Wanting to build a company that stood out in the contracting industry, Virgil Ayers founded his company on principles like honesty, integrity and caring.
As members in good standing with the NAWSRC as well as the Lansing and Grand Rapids Home Builders Associations, they are enjoying the benefits these principles provide.
There are several companies, that do what we do, but no one does it with the quality, service and professionalism associated with every job we do. That is why they have helped over 25,000 of their clients dry out their basements, crawlspaces, and foundations. No matter what your concern, you can be confident that Ayers Basement Systems has the expertise to solve any basement or foundation problem you're having.

Description
Damp proofing company in Wells,
356 North Berwick Road,
Unit #7,
Wells,
ME 04090
About TC Hafford Basement Systems
TC Hafford Basement Systems was established in 1991 by Maine native, Tony Hafford, and was originally known as TC Hafford Waterproofing, Inc. After receiving his business degree from Northern Maine Technical College, Tony discovered he carried an interest in the concrete restoration and waterproofing field. He felt there was a need to improve the waterproofing services available in Maine and decided to start his own company.
In 1995, Tony received further specialized training in foundation repair and basement waterproofing from Basement Systems International Waterproofing Contractor Network. After meeting several requirements, he earned the title of "Certified Waterproofing Professional" and became the exclusive Basement Systems dealer for the entire State of Maine. At this time, the company name "TC Hafford Basement Systems" was adopted.
TC Hafford Basement Systems is the exclusive Basement Systems Dealer for the State of Maine and also performs basement & crawl space waterproofing and foundation repair in eastern New Hampshire.
TC Hafford Basement Systems is also the exclusive dealer in Maine for Foundation Supportworks Inc, a network of expert foundation and structural engineers with award-winning products and superior expertise in all facets of foundation repair.
Over the years, the Specialists at TC Hafford Basement Systems have consulted with thousands of homeowners, designing effective home improvement solutions for every wet basement, dirt crawl space and foundation issue encountered. As a trusted and valued member of the Basement Systems network, and the Foundation Supportworks network, TC Hafford Basement Systems upholds the standards of those companies to the highest degree.