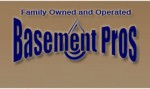 Description
Damp proofing company in Newark, Delaware
569 Walther Road,
Newark
Delaware 19702
About Basement Pros
Basement Pros is a family owned and operated business which is committed to providing each and every customers with the highest level of quality and customer service. They service Delaware, New Jersey, Delaware County, Montgomery County and Chester County in Pennsylvania.
Basement Pros has over 25 years of hands on installation expertise. They guarantee you the most comprehensive, reliable systems available at the absolute lowest possible price. Every basement inspection they perform is done by a foundation waterproofing expert, guaranteeing you receive a thorough, informative and honest assessment and estimate.

Description
Damp proofing company in Wilmington, Delaware
1822 St. Elizabeth St.
Wilmington,
DE 19805
About Brandywine Waterproofing of Delaware:
Brandywine Waterproofing of Delaware is a father and son business serving Northern Delaware and the surrounding areas for over 45 years.
The company has developed a solid reputation by delivering dry basements through skilled craftmanship and quality materials. Their company takes pride in the fact that they hear so many compliments on their clieanliness, swift installatons and overall "old school work ethic" that separates them from their competition.
Realtors, builders, facilities managers, and home owners agree that their honest and fair pricing, expertise in solving water penetration problems, and free advice is unsurpassed.