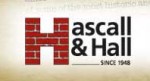 Description
Damp proofing company in Portland, Maine
273 Presumpscot Street
Portland,
ME 04103
About Hacall & Hall
Hascall & Hall is a New England-based specialty contracting business founded in 1948 with a simple directive: to provide individualized building solutions of outstanding quality and workmanship. From their very first project—hand-cleaning the façade of Portland's Union Station—to the very most recent, they have aligned ourselves with that directive many times over, expanding their scope to serve the commercial, industrial, academic, and government sectors throughout the Northeast.
Whether your building is a stately old mansion in need of a facelift or a state-of-the-art facility that requires flooring to match precision specifications, Hascall & Hall has the people, skills, materials, and equipment to meet your demands. In an industry where technology is rapidly advancing in both diversity and complexity, securing the services of a building contractor whose background and experience align themselves with your needs is paramount.
Hascall & Hall is proud to have been in business for over 60 years as a direct result of their dedication to client satisfaction and the word-of-mouth recommendations and client testimonials that it has brought them over time. At Hascall & Hall, they understand the challenges you face, and know how crucial it is to maximize the return on all your building investments. They place a premium on partnership in our relationships, and value highly not only their clientele, but their own people as well. Their teams receive comprehensive hands-on training in the proper application of leading-edge products and technology, as well as many hours of safety instruction before entering the field. As a result, they are able to maintain top-notch personnel whose competency, efficiency, and safety record on the jobsite are sure to meet your highest expectations.

Description
Damp proofing company in Wells,
356 North Berwick Road,
Unit #7,
Wells,
ME 04090
About TC Hafford Basement Systems
TC Hafford Basement Systems was established in 1991 by Maine native, Tony Hafford, and was originally known as TC Hafford Waterproofing, Inc. After receiving his business degree from Northern Maine Technical College, Tony discovered he carried an interest in the concrete restoration and waterproofing field. He felt there was a need to improve the waterproofing services available in Maine and decided to start his own company.
In 1995, Tony received further specialized training in foundation repair and basement waterproofing from Basement Systems International Waterproofing Contractor Network. After meeting several requirements, he earned the title of "Certified Waterproofing Professional" and became the exclusive Basement Systems dealer for the entire State of Maine. At this time, the company name "TC Hafford Basement Systems" was adopted.
TC Hafford Basement Systems is the exclusive Basement Systems Dealer for the State of Maine and also performs basement & crawl space waterproofing and foundation repair in eastern New Hampshire.
TC Hafford Basement Systems is also the exclusive dealer in Maine for Foundation Supportworks Inc, a network of expert foundation and structural engineers with award-winning products and superior expertise in all facets of foundation repair.
Over the years, the Specialists at TC Hafford Basement Systems have consulted with thousands of homeowners, designing effective home improvement solutions for every wet basement, dirt crawl space and foundation issue encountered. As a trusted and valued member of the Basement Systems network, and the Foundation Supportworks network, TC Hafford Basement Systems upholds the standards of those companies to the highest degree.