Description
Dampproofing in Sioux Falls, South Dakota
27111 Independence Ave
Sioux Falls,
SD 57108
About Blackburn Basement Systems
Blackburn Basement Systems has been providing the best in basement waterproofing, crawl space and foundation repair to customers throughout Wyoming and South Dakota, including Rapid City, Yankton, Miller and Sioux Falls, since 1992. Our foundation repair and basement system solutions allow us to solve almost any water or structural issues you may have. The techniques we use are less expensive and are much neater than the traditional methods of repair thus saving you time and money. Of course all our work is fully guaranteed for the life of the structure and is transferable when necessary. We are always pleased to offer free estimates.
Blackburn Basement Systems is a member of the Basement Systems Network. Basement Systems Network provides access to the most complete and up to date products and techniques in the basement waterproofing business today. Basement Systems has over 200 dealers in the US, Canada and the UK making it the largest, most professional waterproofing network in the world and that allows us to stay ahead of the pack!
Blackburn Basement Systems offers such a wide variety of repair methods because structures have a wide variety of problems. For you, the business or home owner, this means we have the expertise and the experience to solve your problem the first time, while making sure no alternatives are overlooked.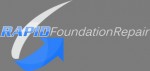 Description
Damp proofing company in Rapid City, South Dakota
322 Canal Street
Rapid City,
SD 57701
About Rapid Foundation Repair
At Rapid Foundation Repair they know that most foundation repairs result from water and soil-related problems: poor compaction, overloading, excessive organic materials, erosion or expansive soils that expand and shrink with changes in the moisture content of the soil.
If your home is in need of foundation repair, you have come to the right place. Whether you are experiencing sticking doors and windows or sloping floors, Rapid Foundation Repair can help. The first step is to contact them. Rapid Foundation Repair will go to your home and make a thorough inspection to determine the cause of your specific foundation failure problem. They will answer your questions and tell you about the solution that will best fix your foundation problem.
Their team of experienced and knowledgeable professionals at Rapid Foundation Repair will then give you a written proposal that details what they will do and the cost of the work. After you approve the proposal, they will begin the repairs. Rapid Foundation Repair pride themselves on their efficient work ethic. They will repair your foundation quickly and can guarantee that our repairs will last a lifetime. Rapid Foundation Repair always recommends that you contact an engineer before having foundation repair work done on your home.