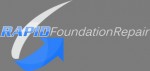 Description
Damp proofing company in Rapid City, South Dakota
322 Canal Street
Rapid City,
SD 57701
About Rapid Foundation Repair
At Rapid Foundation Repair they know that most foundation repairs result from water and soil-related problems: poor compaction, overloading, excessive organic materials, erosion or expansive soils that expand and shrink with changes in the moisture content of the soil.
If your home is in need of foundation repair, you have come to the right place. Whether you are experiencing sticking doors and windows or sloping floors, Rapid Foundation Repair can help. The first step is to contact them. Rapid Foundation Repair will go to your home and make a thorough inspection to determine the cause of your specific foundation failure problem. They will answer your questions and tell you about the solution that will best fix your foundation problem.
Their team of experienced and knowledgeable professionals at Rapid Foundation Repair will then give you a written proposal that details what they will do and the cost of the work. After you approve the proposal, they will begin the repairs. Rapid Foundation Repair pride themselves on their efficient work ethic. They will repair your foundation quickly and can guarantee that our repairs will last a lifetime. Rapid Foundation Repair always recommends that you contact an engineer before having foundation repair work done on your home.
Send Message
Please
log in
to be able to send messages to the listing owner.