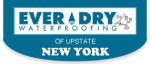 Description
Damp proofing company in Rochester, New York
12 Pixley Industrial Parkway
Rochester,
NY 14624
About Everdry Waterproofing
Everdry Waterproofing of Upstate New York professionals take a personal, one-on-one approach in dealing with homeowners to help them understand their options for creating a safe, dry and livable space in their basements.
Homeowners seeking a basement waterproofing solution rely on Everdry Waterproofing of Upstate New York for complete and accurate information about basement waterproofing. They serve as a resource of information to remedy water problems in basements no matter the cause. They only employ qualified waterproofing consultants and provide free in home estimates for your home and peace of mind. Their waterproofing consultants have been trained to answer questions and provide you with the very best workmanship using the highest quality products in the industry, and always supply you with the most cost effective waterproofing solution.

Description
Waterproofing company in Sterling Heights, Michigan
33533 Mound Road
Sterling Heights,
MI 48310
About Everydry Waterproofing Michigan
Everydry Waterproofing Michhigan is one of the nation's largest basement waterproofing companies within the United States. They specialize in basement waterproofing, crawlspace waterproofing, and foundation repair. Their patented, safe and 100% effective waterproofing method can be used on foundation consisting of poured concrete, block, brick, stone, red, cay tile plus crawlspaces amd slabes. They have been in business for more than 30 hours and have over 85,000 customers.