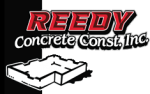 Description
Damp proofing company in Galesville, Wisconsin
16451 South 15th St.
Galesville,
WI 54630
About Reedy Concrete Construction, Inc
Reedy Concrete Construction, Inc is a family owned and operated corporation loacated in Galesville, WI. Several Reedy Concreet employees have completed training courses and they are certified by OSHA, MSHA, ADA and ACI.
RCC Inc is guided by three supervisors and an operations manager. Due years of experience, seven crews led by top notch foremen ensure a job well done.
The Trimble Construction Station and the Total Robotic Station is used to ensure a precise job layout. ReCon Coating Company is a division of RCC Inc and it specialises in commercial and residential waterproofing, damp proofing as well as air and vapor barriers.