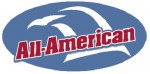 Description
Damp proofing company in Atlanta, Georgia
2550 Fairburn Rd. SW
Atlanta,
GA 30331
About All-American Waterproofing Company :
Founded in 1961, All-American Waterproofing Company has solved thousands of waterseepage and structural problems through the metro Atlanta area.
The company was been waterproofing basements and crawlspaces for over 50 years, they are family owned and provide the highest quality work with the highest quality materials.
They offer free, customized ppraisals based upon the type of work you may need such pressure relief systems inside or outside, crawl space, sump pump installation, or any other below-grade remediation.
All-American Waterproofing company is a BBB A+ Accredited Business.