Description
Damp proofing company in Charlotte, North Carolina
1425 Cressida Drive
Charlotte
NC 28210
About Moisture Loc
Moisture Loc is the Carolina's Industry Leader in identifying and solving moisture problems. Since 1988, Moisture Loc Inc. has set the standard for quality workmanship and customer service. Accredited by BBB, NARI, and AGC, residential and commercial builders as well as existing homeowners depend on Moisture Loc to ensure a moisture free crawl space or basement. Moisture Loc, Inc. will provide the most advanced products in the industry, and offer prompt customer service to all our builders, contractors and homeowners. From the first inquiry through the completion of your project, ONE project leader will handle your evaluation, be onsite during installation, and ensure that the job is done correctly.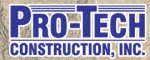 Description
Damp proofing company in Raleigh, North Carolina
7429 ACC Blvd,
Suite 109,
Raleigh,
NC 27617
About Pro-Tech Construction, Inc
Pro-Tech Construction, Inc. was established in 1991 and it is based in Raleigh, NC. They are a licensed general contractor focused in the areas of exterior concrete and masonry restoration and waterproofing. They work with general contractors both large and small and directly with building owners, and property managers.
Pro-Tech Construction offers the following services:
masonry restoration including historical restoration, tuckpointing, brick replacement, mortar joint reinforcement, stone and terra cotta repair, and mortar matching for strength and color.
Chemical cleaning of interior and exterior surfaces, efflorescence and coating removal, and pressure washing.
Coating applications for exterior walls, and concrete.
Caulking of all types of sealant joints, including expansion joints.
Epoxy injection and chemical grout injection.
Concrete restoration including architectural and structural repairs of deteriorated concrete, reinforcing steel & parking garage repair & maintenance. Above and below grade waterproofing and air barriers.
Diagnostic services and consulting.
Pro-Tech Construction, Inc. diagnoses and solves problems on a daily basis. Whether it's an issue with masonry, or concrete, sealants, water repellents, damp proofing, air barrier, below grade waterproofing, they have experience with all of it. Their mission is do to better than anyone else.