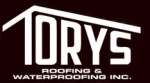 Description
Damp proofing company in Pearl City, Hawaii:
96-1382 Waihona Street
Pearl City,
HI 96782
About Torys Roofing & Waterproofing, Inc
Tory's Roofing & Waterproofing, Inc was established by Louis Tory, Jr. in 1972. Tory's began by primarily doing residential roofs and quickly gained popularity and a good reputation for being an honest and trustworthy contractor. Hard work, dedication, and perseverance boosted Tory's Roofing to the forefront as on of the oldest and largest roofing contractors in Hawaii. Today Tory's has expanded from residential roofing to commercial, state, city and federal projects as well.
This non-union family business maintains high standards and expectations to ensure that each roof is installed with precision and excellence. Tory's dedication to delivering cutting edge technology and flawless workmanship are just a few of the reasons why Tory's Roofing has been successful for over 39 years.