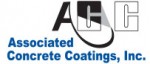 Description
Damp proofing company in Manchester, New Hampshire
476 Valley Street
Manchester,
NH 03103
About Associated Concrete Coatings, Inc
Associated Concrete Coatings has become New England's leading specialty coatings contractor. With over 40 years of experience, insight and knowledge, they offer the intimacy of a small business and the know-how of a large corporation. They install coatings 24/7 to allow for minimal downtime and business interruption. While most of their work is commercial, industrial and multi-unit residential, they often tackle complex single-unit residential projects.
Associated Concrete Coatings was founded in 1969 installing cementitious waterproofing and decorative coatings, applied by trowel to the exterior and the interior of foundations. In the 1970s huge steps were made in the development and application of elastomeric fluid applied waterproofing. Seizing the opportunity in spray technologies ACC soon became experts in spraying elastomeric waterproofing and it became one of the first waterproofing contractors in New England and certified for the TUFF-N-DRI waterproofing system, which is one of the leading below-grade waterproofing products in the industry today.