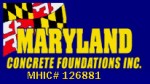 Description
Damp proofing company in Bel Air, Maryland
2240 Conowingo Road,
Bel Air,
Maryland 21015
About Maryland Concrete Foundations:
Maryland Concrete Foundations, Inc has been owned and operated as a foundation business by Mel Braun for over 30 years. They are licensed with the Maryland Home Improvement Commission (MHIC) so that they can work on new and existing properties. The company also specializes in home additions, garages, and any other work on existing home.
Many of their employees have experience in all aspects of home building and construction, which enables them to assist their customers in ways other companies cannot. Their field supervisors have many years in the business and they are extremely knowledgeable in many aspects of foundations, flat work and excavation in addition to damp proofing and waterproofing your home. Some employees have worked for the company for up to 30 years.
Whether you are a homeowner building one foundation, or a homebuilding that build multiple, they work hard to provide the best job possible.
Maryland Concrete Foundations Inc provides many options for foundation coating and drain requirements. This includes damp-proofing, water-proofing, protection boards, insulation/protection boards, and many types of drain systems.