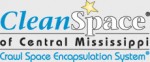 Description
Damp proofing company in Madison, Mississippi
326 Distribution Dr.,
Madison,
MS 39110
About CleanSpace of Central Mississippi
As an authorized CleanSpace dealer for Basement Systems, Inc., the world's largest network of crawl space and basement waterproofing contractors, they specialize in repairing and restoring your dirty, damp and musty crawl space.
CleanSpace of Central Mississippi works hard to protect your home from mold, mildew, odors and structural damage including buckling of hardwood floors and they have been fixing crawlspaces and homes since 1996.
When necessary they will install a dehumidifier and/or sump pump in addition to the crawl space encapsulation system.
They service Mississippi including Jackson, Meridian, Brandon, Pearl, Laurel, Vicksburg, Madison, Canton, Brookhaven, Clinton, Ridgeland, Yazoo City, Philadelphia, Crystal Springs, Ellisville, Magee, Hazlehurst, Mendenhall, Forest, Carthage, Kosciusko, Florence and everywhere in between.
CleanSpace of Central Mississippi is a division of Energy Insulation, Inc. and is locally owned by Rixon Simmons.
They have access to the full line of Basement Systems basement waterproofing products including their 24 patented products, which have won 22 quality and innovation awards and recognition from the Better Business Bureau for excellence and integrity in the industry.
Basement Systems developed the CleanSpace Crawl Space Encapsulation System, which seals a crawl space off from moisture coming up from the dirt and also from the damp air outside and creates healthy home environments and increased storage space.