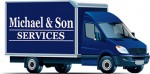 Description
Damp proofing company in Alexandria, Virginia
5730 General Washington Dr.
Alexandria,
VA
22312
About Michael and Son Services
Michael and Son services provide waterproofing and dampproofing services in Virginia. They help to create watertight surfaces that are impenetrable to moisture.
Since most basement foundations and walls are not made watertight, the =y offer effective solutions when you need waterproofing on your property. Their experienced team can complete the task effectively and economically.
Michael and Son services knows exatly how to create a completely dry and insulated home. From repairing structural defects to coating surfaces with an advanced waterproof barrier, tey ensure that your basement and home stays dry all year.
In their line of work, experience counts when it comes to waterproofing your home. There is more to waterproofing than just spraying on a sealant and the experts and Michael and Sons work quickly to provide thorough waterproof services when you have a damp and moist home.
They will even deal with any cracks or leaks in your home that causes water to get to your interior.