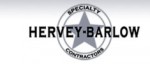 Description
Damp proofing company in Houston, Texas
About Hervey-Barlow Speciality Contractors, LLC
Hervey-Barlow Specialty Contractors, LLC is a full service waterproofing sub contractor providing full scope waterproofing, dampproofing, flashing and sealant installations in new commercial and commercial renovation work. They service all Texas and Louisiana markets and the company is licensed in Louisiana.
Started in 2010 by Ben Barlow and Bob Hervey, together they bring over 45 years of commercial construction experience, both in general contracting and sub contracting.
We preform commercial waterproofing and dampproofing scope that includes:
Below grade waterproofing of all types
Tyvek
Joint Sealants of all types
Building and Paving Sealants
Concrete Floor Sealer/Hardeners
Staining and sealing of concrete floors
Cold applied roll on dampproofing
Flashing (Membrane and Copper)
Expansion Joint Systems
Water Repellents
Diamond Polishing of concrete floors
Light Sand Blasting

Description
Waterproofing company in Vidor, Texas
240 S. Main,
Suite 2
Vidor,
TX 77662
About Marsh Waterproofing Inc
Marsh Waterproofing Inc specializes in waterproofing, building restoration, pressure washing, roofing, and historical restoration in the commercial sector in the states of Texas, Louisiana, and Mississippi.
Since 1984,Tim Marsh has been involved in every aspect of the waterproofing industry. In 1999 Tim decided to start his own waterproofing company with the focal point of giving each client, regardless of project scope, personalized service and complete satisfaction.
Tim and Gayle Marsh incorporated their business in 2000 and it has grown to 20+ full time employees with contractor's license in Texas, Louisiana, and Mississippi.
Their business may have grown larger but they claim their commitment to client satisfaction has increased along with the size of the company.