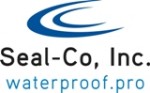 Description
Damp proofing company in Albuquerque, New Mexico
6010-C Midway Park NE
Albuquerque,
NM 87109
About Seal-co, Inc
The Seal-Co staff successfully installs many supplemental moisture protection systems including dampproofing, water repellent coatings, vapor barriers, insulation and in-plane wall drainage composites (drainage mats).
Seal-Co, Inc. is an Albuquerque based specialty construction firm providing waterproofing, caulking and moisture protection services to general contractors. They select their customers from among the most successful contractors in the country. With a highly trained, service and safety conscious staff, their objective is to perform their contracted work in a manner that far exceeds their customer's expectations. We are confident that our future success is determined by our performance today.
Seal-Co, Inc. is a contractor licensed in the state of New Mexico and was established in 1969. The New Mexico contractor's license is GB98-5355. They have organized their resources in response to general contractors seeking specialty companies that are willing to build a team that they can depend on. At its core, Seal-Co, Inc. has more than 60 years combined experience in the specialty construction industry. With project and operations experience that has been successful throughout the United States, their staff's performance includes hundreds of projects, thousands of different types of installations and over twenty million dollars of completed work.