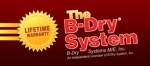 Description
Damp proofing North Billerica, Massachusetts
25 Sullivan Road
North Billerica,
MA 01862-2020
About B-Dry Systems
B-Dry systems is a waterproofing and damp proofing company that installs its own patented products to protect your home. They ensure your basement stays dry with quality and affordable waterproofing services from their company. All of their staff offers the reliable services you need, including new system installations, pumps and battery backup.
Since the B-Dry system was first introduces, it has been used in more than 200,000 basements to date. Since 1981, their team has helped 30,000 customers throughout Massachusetts with an affordable solution for their flooding problem. Their system comes with a warranty which is transferable when you sell your home.
Many of their staff has been working with the company since the beginning and they not only install the basement waterproofing system, but they can confirm the system's proven results by the low number of service calls.

Description
Damp proofing company in Boston< Massachusetts
12 Alward Road
Boston,
MA 02132
About C. Costello Masonry Inc
C. Costello Masonry, Inc provides various masonry services such as damp proofing, foundations, caulking, decorative masonry and many more. They have been in business for years and its owner, Colm Costello has experience working in the undustry for the past decade. The company has been serving the masonry needs of Boston and Eastern Massachusetts, providing stone work, chimneys, and even historic restoration services. They take pride in their work, whether it is big or small. Your project will be completed to the highest of standards for both customer service and craftmanship.
C. Costello Masonry is an award-winning masonry company and they have won th Angie's List Service Award for 3 years: 2010, 2011 and 2012.
The company is fully licensed and insured with licenses for Unrestricted COnstruction Supervisor and Home Improvement Contractor. They are also OSHA Safety Training certified and carry Workmen's Compensation and General Liability Policies.
Their previous work includes a wide variety of residential and commercial masonry projects. They have completed a number of historical restoration projects in boston's iconic neighborhoods, from Beacon Hill to the South End's brownstones, churches and many more. Some of their previous customers include VA Hospitals, the Hale Reservation in Westwood, the Exelon Power Plant, churches, schools and other instituional buildings in the Greater Boston area.